Heiner Zille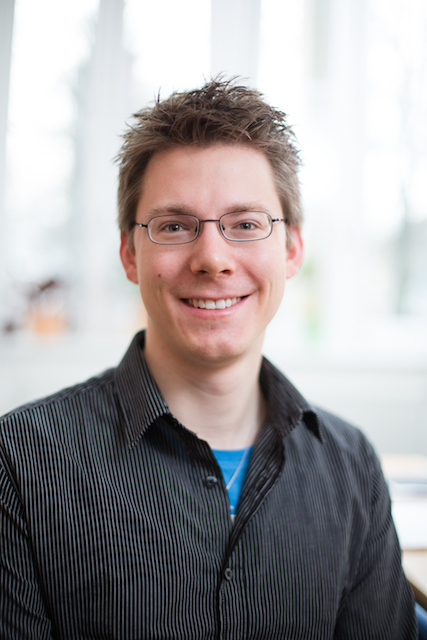 Heiner Zille
Fakultät für Informatik
Institute for Intelligent Cooperating Systems

Gebäude 29, Universitätsplatz 2, 39106, Magdeburg, G29-013
Heiner studied Information Engineering and Management at the Karlruhe Institute of Technology (KIT), Germany and the Doshisha University, Japan. He received his B.Sc. and M.Sc. degrees in 2011 and 2014 respectively. Currently he is working as a research assistant and pursuing his PhD degree in the areas of evolutionary computation and swarm intelligence. From August 2015 to July 2016 he worked as a guest PhD student at the Osaka Prefecture University in Sakai, Japan. His research focusses on multi-objective optimisation, in particular on problems with large numbers of decision variables.
Journal Papers
Sanaz Mostaghim, Christoph Steup and Heiner Zille
Multi-Objective Distance Minimization Problems and its Application in Technical Systems
at - Automatisierungstechnik, 66(11), pp. 964-974. Nov. 2018, doi:10.1515/auto-2018-0054 --> Link
Heiner Zille, Hisao Ishibuchi, Sanaz Mostaghim and Yusuke Nojima
A Framework for Large-scale Multi-objective Optimization based on Problem Transformation (Download) (Supplement Material) (Sourcecode)
IEEE Transactions on Evolutionary Computation, Vol. 22, Issue 2, pp. 260-275, April 2018. --> Link
Reviewed Conference Papers
Heiner Zille and Sanaz Mostaghim
Linear Search Mechanism for Multi- and Many-Objective Optimisation (Download)


In the Proceedings of the 10th International Conference on Evolutionary Multi-Criterion Optimization (EMO 2019), Lecture Notes in Computer Science, vol 11411. Deb K. et al. (eds), Springer, Cham, East Lansing, Michigan, USA, March 2019 --> Link. The final authenticated version is available online at https://doi.org/10.1007/978-3-030-12598-1_32.
Frederick Sander, Heiner Zille and Sanaz Mostaghim
In the Proceedings of the ACM Genetic and Evolutionary Computation Conference (GECCO), Pages 729-736, Kyoto, July 2018 --> Link
Heiner Zille and Sanaz Mostaghim
Comparison Study of Large-scale Optimisation Techniques on the LSMOP Benchmark Functions (Download) (Sourcecode)

IEEE Symposium Series on Computational Intelligence (SSCI), IEEE, Honolulu, Hawaii, November 2017 --> Link
Heiner Zille, André Kottenhahn and Sanaz Mostaghim
Dynamic Distance Minimization Problems for dynamic Multi-objective Optimization (Download)

IEEE Congress on Evolutionary Computation (CEC), Pages 952 - 960, IEEE, San Sebastian, Spain, June 2017 --> Link
Ruby V. L. Moritz, Heiner Zille, and Sanaz Mostaghim
Elitism and aggregation methods in partial redundant evolutionary swarms solving multi-objective tasks

IEEE Congress on Evolutionary Computation (CEC), Pages 1467 - 1473, IEEE, San Sebastian, Spain, June 2017 --> Link
Heiner Zille, Hisao Ishibuchi, Sanaz Mostaghim and Yusuke Nojima
Mutation Operators Based on Variable Grouping for Multi-objective Large-scale Optimization (Download)

IEEE Symposium Series on Computational Intelligence (SSCI), IEEE, Athens, Greece, December 2016 --> Link
Heiner Zille, Hisao Ishibuchi, Sanaz Mostaghim and Yusuke Nojima
Weighted Optimization Framework for Large-scale Multi-objective Optimization (Download) (Sourcecode)

Genetic and Evolutionary Computation Conference (GECCO), ACM, Denver, USA, July 2016 --> Link
Patrick Laack, Heiner Zille and Sanaz Mostaghim
Multi-objective Fitness-proportional Attraction Approach with Weights (Download)

IEEE Congress on Evolutionary Computation (CEC), IEEE, Vancouver, Canada, July 2016 --> Link
Kei Harada, Misato Tanaka, Satoru Hiwa, Heiner Zille, Sanaz Mostaghim and Tomoyuki Hiroyasu
Functional brain network extraction using a genetic algorithm with a kick-out method
IEEE Congress on Evolutionary Computation (CEC), IEEE, Vancouver, Canada, July 2016 --> Link
Heiner Zille and Sanaz Mostaghim
Properties of Scalable Distance Minimization Problems using the Manhattan Metric (Download)
IEEE Congress on Evolutionary Computation (CEC), IEEE, Sendai, Japan, May 2015 --> Link
Heiner Zille, Sakito Nunokawa, Sanaz Mostaghim, Mitsunori Miki and Tomoyuki Hiroyasu
Comparison Study of MOEAs with High Dimensional Objective and Decision Spaces
Japanese Society for Evolutionary Computation Symposium, Kirishima, Japan, December 2013
Theses
Heiner Zille
Cooperative Coevolution for large-scale multiobjective Distance Minimization Problems
Master Thesis, Karlsruhe Institute of Technology (KIT), 2014
Heiner Zille
Finding Simple Routes Guaranteeing Distance Thresholds
Bachelor Thesis, Karlsruhe Institute of Technology (KIT), 2011
Lectures and Seminars
Tutorials for the lecture Evolutionary Multi-Objective Optimization, Summer 2019
Tutorials for the lecture Intelligente Systeme, Winter 2018/19
Seminar Computational Intelligence in Multi-Agent Systems, Summer 2018
Tutorials for the lecture Intelligente Systeme, Winter 2017/18
Seminar Intelligent Systems, Summer 2017
Tutorials for the lecture Evolutionäre Algorithmen, Summer 2017
Tutorials for the lecture Organic Computing, Winter 2016/17
Tutorials for the lecture Evolutionäre Algorithmen, Summer 2015
Tutorials for the lecture Organic Computing, Winter 2014/15
Seminar Social Robotics, Winter 2014/15
Advisor of Bachelor and Master Theses
Topics under work:
Using Multi-objective Optimisation for analysing fMRI Data, Master Thesis
Contraint-Handling Techniques for Highly Constrained Optimisation Problems, Master Thesis
Genetic Programming for Physical Variables, Bachelor Thesis
Finished topics:
Thomas Hennig
Master Thesis, OVGU
Supervision: Sanaz Mostaghim (OvGU), Frank Ohl (Leibniz Institute for Neurobiology)
Advisors: Heiner Zille and Lars Boenke
January 2019
Robby Henkelmann
Master Thesis, OVGU
Supervision: Sanaz Mostaghim
Advisor: Christoph Steup, Heiner Zille
June 2018
Frederick Sander
Master Thesis, OVGU
Supervision: Sanaz Mostaghim
Advisor: Heiner Zille
April 2018
Tobias Peter
Master Thesis, OVGU
Supervision: Sanaz Mostaghim
Advisor: Heiner Zille
April 2018
Patrick Laack
Multi-objective Fitness-proportional Attraction Approach with Weights
Master Thesis, OVGU
Supervision: Sanaz Mostaghim
Advisor: Heiner Zille
November 2015